Please read our 'Teaching Reading' page alongside this page, which has specific information about teaching phonics at High Ercall.
At High Ercall Primary School we love reading! We value reading for enjoyment enormously, and we encourage all our children to read regularly at home and school. We want all our children to find books they enjoy, challenge themselves to read different genres, to find new authors and to read for different reasons. We want all our children to learn to read, and read to learn
For our children to become fluent, confident and eventually expert readers and writers, knowledge of phonics is one of the key foundations. Once the children are fluent readers, through their knowledge of phonics and recognition of tricky key words, this enables them to focus on understanding of what they read. Teaching phonics is therefore an integral part of the curriculum in EYFS and Key Stage 1, so that the children are rigorously taught how to decode and encode sounds (phonemes).
How do we teach phonics?
 
We follow the Phonics Bug scheme of work, published by Pearson. Our children are progressively taught the 44 phonemes that make up all the sounds required for reading and spelling. These phonemes include those made by just one letter and those that are made by two or more. As the children grow in confidence and experience, they are introduced to alternative ways of representing the same sound, eg 'ee' can be represented as 'ee', 'ea', 'e-e', 'e'.
The taught phonemes are organised into 'Phases':
Each phase takes a different amount of time to teach, then assess and check that the children have retained the new knowledge to apply it into both reading and spelling.
- Phase 1 introduces listening and identifying sounds (nursery and early reception)
- Phase 2 teaches initial sounds with single letters and some double letters which make one sound
- Phase 3 teaches vowel digraphs - one way to make the long vowel sounds of a,e,i,o, and u
- Phase 4 teachers how to blend and combine consonants such as tr, bl, fr
- Phase 5 teaches all the alternative ways (graphemes) to make the long vowel sounds as well as few tricky graphemes which make different sounds.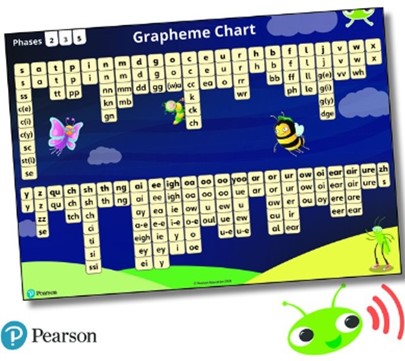 We ensure that our teaching of phonics is rigorous, structured and enjoyable. Children have discrete, daily phonics sessions where they are introduced to new phonemes, can practice and revise previous learning and have plenty of opportunities to apply the knowledge they have.
A lesson structure:
1. Each lesson starts with a recap of learned phonemes using phoneme cards.
2. A new phoneme is taught. The children use 'sound talk' to read words with this phoneme. Sometime they will read 'alien' words which are words that contain the new phoneme but they aren't actually real words. This encourages the children to use the new phoneme and ones they already know to decode a word.
3. Next they move to write the phoneme, so they learn the correct letter formation. They will write the phoneme several times and staff help the children to form letters correctly, hold the pencil correctly and sit in a way which helps them to write.
From the third week in Reception, the children start to practise holding a pencil, sitting at a table and practise early formation. This is with the phase 2 initial sounds. As they progress through the phases, the children quickly write words by segmenting and blending and then apply this to carefully constructed sentences which use the new phoneme taught. 
4. As the children gain confidence in writing, they write words using the phoneme and they write sentences dictated to them. This enables them to apply the new knowledge but also practise knowledge they have learnt previously. The sentences are carefully planned so that they include phonemes the children know.
5. At the end of each daily session, the children then read in pairs from a matched phonics book from Phonics Bug which allows them to apply their learning. They practise decoding using their 'sound talk' to apply the new phoneme they have been taught, and practise ones they have been taught previously. Staff support, model and listen to the children.
Applying learning
By recapping and revising learning daily, and applying it in their other learning or play in the classroom and outside (in Class 1), the children quickly acquire the phonemes they need to read and write. We want our children to be fluent and automatic in their recall.
Within continuous provision in Reception, and across the curriculum in Year 1 and 3, we also use a range of  strategies to enthuse and engage the children to apply their new knowledge, including the use of a range of writing opportunities, magnetic letters, speaking and listening, songs, rhymes and practical activities. Children work with pace and are encouraged to apply their knowledge across the curriculum with any reading or writing activities.
 
Alongside the teaching of Phonics, children have access to a language rich environment where they are able to apply their decoding skills and develop language comprehension in order to 'read'.
Helping parents
When children join us at High Ercall, Mrs Caton, our Class 1 teacher meets with parents for a workshop to share our approach to teaching phonics, reading and writing, and how parents can support at home. This includes reading regularly, practising word cards and learning spellings when appropriate.
We also support parents with workshops and reading events through the year. Each year we hold a workshop in September / October to share how we teach phonics and how it links to our online learning, Phonics bug.
Below in the related documents is a PowerPoint shared with parents in at our workshop October 2023, which details our planning and structure of our phonics scheme. Please do have a look and email with any questions.